About
Encyclopaedia of Traditional Hydrotherapy
Hydrotherapy to treat disease
Hydrotherapy has been used for thousands of years and can be as simple as washing a wound or as complex as Alternate Compresses. It is not commonly used these days because it can be inconvenient, for example, taking an antibiotic pill is easier than arranging a Hot Bath. However, despite the labour involved, hydrotherapy is very effective. Its few adverse side effects are obvious immediately. It leaves the patient feeling comfortable and actually strengthens the body.
Hydrotherapy can be used on many conditions that are not amenable to medical treatment.
Today's hydrotherapy professionals can easily benefit from the wisdom and experience of doctors, who early last century gathered treatments from around the world to treat thousands of patients with a wide range of conditions. Traditional Hydrotherapy is compiled from their medical textbooks and allows you to consult with these men and women from the time when hydrotherapy was at its peak in the US.
Most of the terminology is unchanged, some will appear archaic. Temperatures have been converted to Centigrade and the spelling Anglicised.
Sections of the Encyclopaedia
Using this Website as an Encyclopaedia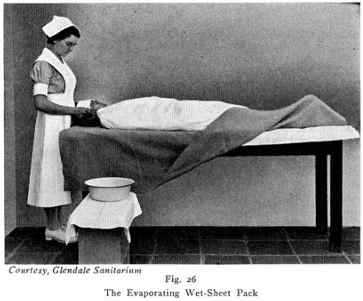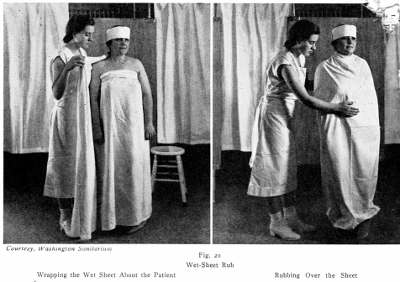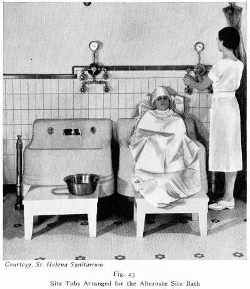 Before Using this Information
We assume that you already have a diagnosis from a qualified Medical Practitioner. Inform the doctor if you want to use Hydrotherapy and ask if there are any contraindications.
We have given you the prescriptions as Kellogg, Abbott and the other doctors gave them. If any problems occur as a result of using these prescriptions, we would like to know, but I cannot accept responsibility for the outcome.
These treatments DO work but MUST be applied correctly to correctly diagnosed problems. The procedures themselves have few adverse side effects. Major problems you may encounter are a poor response, or a slow or no recovery. In these cases re-check the diagnosis and the procedure.
Seek medical help if acute conditions do not respond positively to hydrotherapy.
How to Use this Site
If the diagnosis you have doesn't match one of the Diseases listed, you will need to discover the Problems involved in the particular disease you are dealing with. It will probably take some time to become familiar with the Problems section as they are quite different to the signs and symptoms of today. Try to find a disease listed that has some of the same problems as the one you are dealing with.
Once you identify the problems you are dealing with you can then follow the links to the appropriate Techniques or to the Effects required for alternative techniques.